VET Student Contest Awards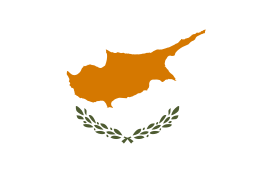 So different but so much the same
With the message, 'So different but so much the same', a successful event and art competition was held at KES College premises on the 21st of December 2022. The event was organised in the framework of the Unique VET Student Art Contest which is one of the key activities towards achieving the objectives of the project to reduce LGBTIQ+ bullying, harassment and discrimination in VET.
KES College students and staff were invited to show, each in their own way, that there is no "room" for discrimination in the College community. The theme of the Art Contest was "Inclusiveness" with the aim to raise awareness of the College community in the fight against hate speech and to promote respect for diversity. Depending on their Programme of Studies, the participants presented their works that reflected the theme in the best possible way.
A group of students from Culinary Business Management Programme of Study prepared the «UNIQUE Cake» (Image 1). The second participation, named «Drag in Education», presented a drag make up to a male VET Teacher (Image 2) and it was prepared by two students from the «Beauty Therapy and Beauty Therapy Units Management» Programme of Study. Another participation, from the same Programme of Study, was entitled: «Girls Wedding», where two students presented the case of a lesbian wedding (Image 3) and their acceptance by their classmates. A contestant from the Journalism with Public Relations Programme of Study prepared a video, including his classmates and promoting acceptance and inclusiveness. The final participation at the contest was from students of the Office Administration and Secretarial Studies Programme of Study and respective photos indicating «A colourful friendship» between students from different origins (Image 4).
Image 4: A colourful friendship by Mohamed Siador Anisa Andria Anna Moisidi – Thessalia Othonos & Zoe Christodoulou (5th place)
The jury, composed of Demetra Mavrou, Yiannis Koudellas and Chryso Chacholiadou, met and gave the first prize to the participation of the student of Journalism with Public Relations, Thomas Tzortzis, with the video "Inclusion is a Choice". The first prize consisted of a sum of money donated by KES College and the major sponsor of the event, the Wise Print Copy Centre. The video sends a powerful message that the college is a safe place where there is no discrimination based on sexual orientation, ethnicity, disability, gender and appearance. Finally, all the attendants decorated colourful figures to decorate a «Unique Christmas Tree»
Congratulations are deserved to all the students who participated and at the same time distinguished themselves for their sensitivity to issues such as those that concern and divide society.
Image 5: Unique Christmas Tree
We have the winner of our student art contest "We are all stars!"
Algebra University College is happy to participate in initiatives that encourage the creation of inclusive classrooms and pleasant atmospheres for learning and teaching. One of these is participation in the Erasmus+ project UNIQUE, which aims to promote the acceptance of one's own individuality among pupils and students, as well as the removal of barriers that stand in the way of developing an inclusive, just and sustainable society.
To this end, we launched a student art competition called "We are all stars". In this way, we invited students to present the concepts of acceptance, belonging, togetherness and inclusion in society with their artwork - from their perspective. We are proud that we have received many applications for the competition from students all over Croatia!
A three-member panel of expert judges evaluated the received artworks: Siniša Bogdanović (Head of Design Studies at Algebra University College), Roman Turk (CEO of Division4Vision agency) and Ivan Skvrce (Head of the Painting Department of the Academy of Fine Arts in Zagreb). According to the evaluation, the winner of our contest is Ivonna Grlić with her artwork entitled "Issues regarding identity".
The author's statement about the art work: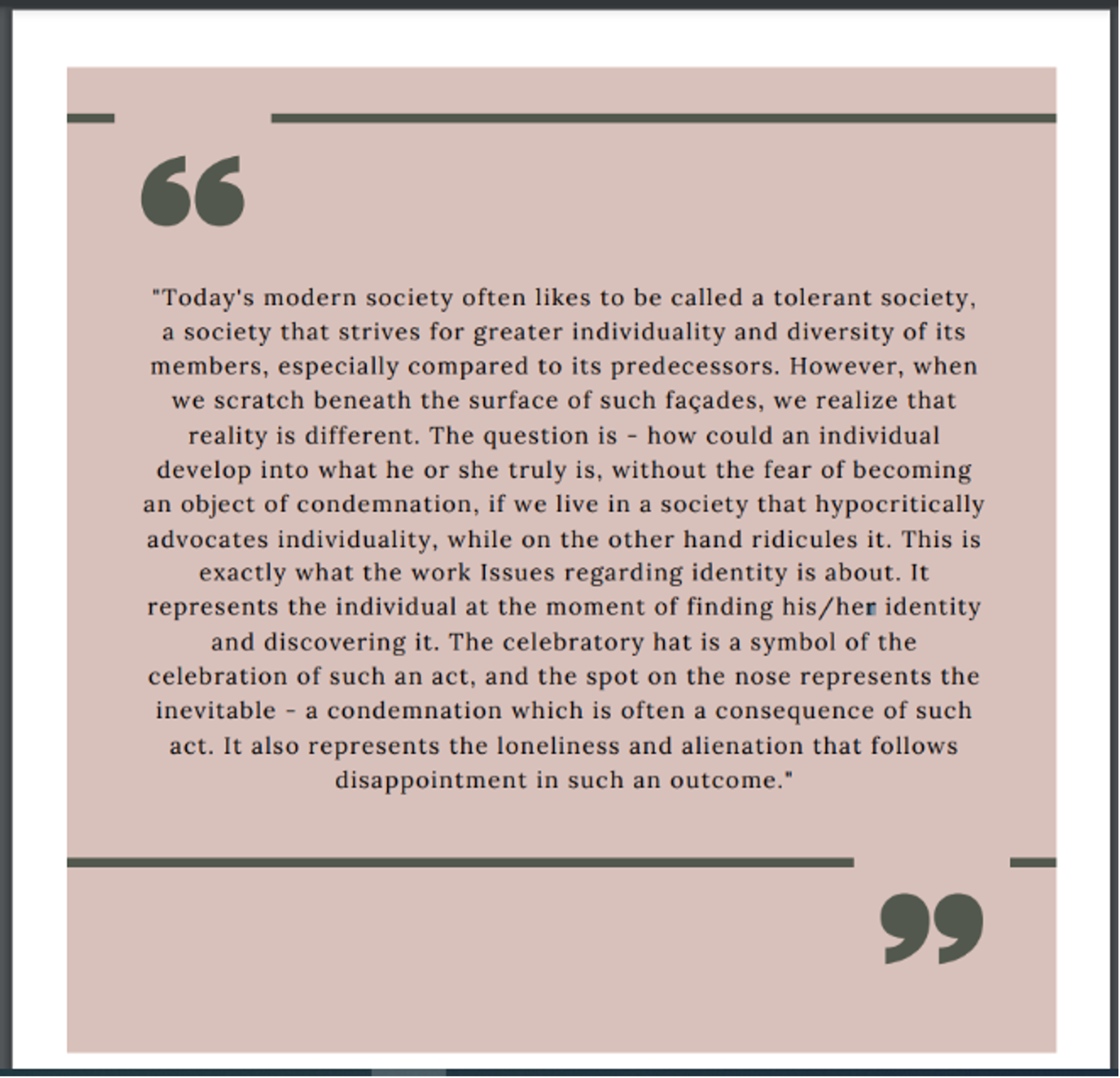 The Head of Design Studies at Algebra University College and our jury member, Siniša Bogdanović, said about the student art contest: "Being a jury member at creative competitions is always a great pleasure, but also an obligation. A large number of works that we received have met the expectations by visually representing the desired message - tolerance. Each work is special in its way of questioning diversity, which has become an increasingly important topic today. The creative approach, visual expression and diversity in the imagination of each work ultimately made it difficult to evaluate the artworks. Sincere congratulations to all participants!"
"Promoting inclusion through visual media is certainly an important topic these days. Moreover, I face this topic almost every day in our projects aimed towards a wide range of positive social changes. So, I consider this competition more than welcome and a good way to promote these social changes. This is exactly why it was a pleasure for me to participate as a member of the jury in this competition because, in addition to the professional challenge for students, it is always interesting to see how new generations perceive a tolerant society and how they try to make our society fair" - Roman Turk, CEO of Division4Vision agency.
Congratulations to the winner of the student art competition "We are all stars" and we are incredibly proud and happy to reward the excellent winning work with a cash prize in the amount of HRK 2,500.00.
We want to thank everyone who participated in our competition and thus expressed their ideas of tolerance, inclusion and positive social changes through art.

How to make VET schools open and friendly towards LGBTIQ+ students
VET Students Arts Contest in Poland took place during the winter, from 1.12.2022 till 31.12.2022. The main theme was "How to make VET schools open and friendly towards LGBTIQ+ students". Despite the difficulties to reach out to VET schools to inform students about the contest, it was eventually completed even though with limited participation.
The national jury was able to choose two amazing works that were really complex and touched upon VET school life but also society as a whole.
The first place was awarded to a contestant who came up with 4 different ideas (including graphics, storytelling, collection of famous quotes in support of the LGBTIQ+ people), submitting eventually one piece.
In the artist's own words, this artwork is a symbol of each person's distinct role in the formulation of the whole society.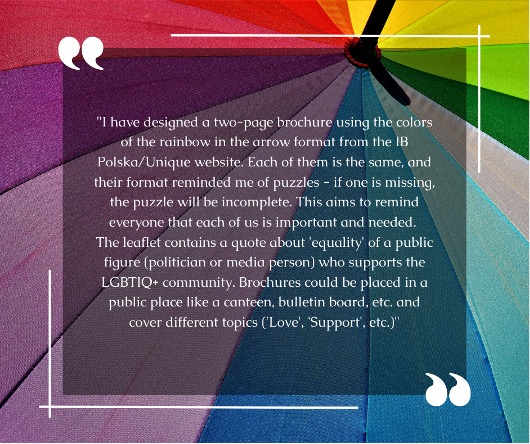 The second place was awarded to the project "Open School" created by Barbara Tokarz: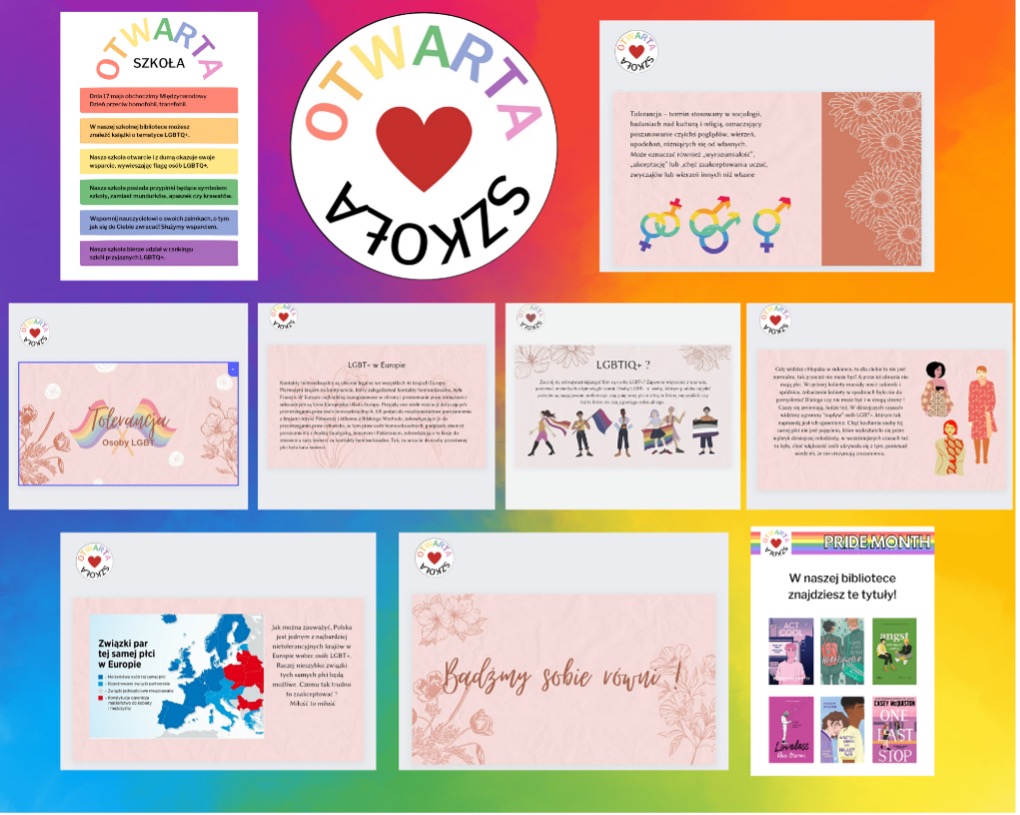 The whole philosophy of the "Open Schools" art project, which could be hopefully an example for real VET schools to adopt, is explained by the artist herself: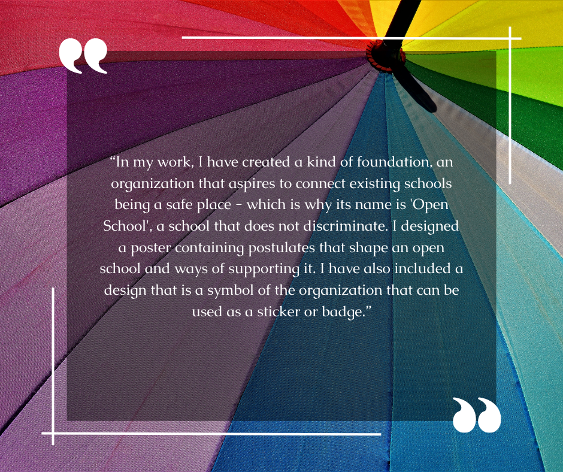 In addition to a certificate that recognizes their effort and a post on Unique social media, the artists received vouchers to the Empik shop to help them further develop their passion. Both works show a lot of understanding and connection to the topic of the contest. Ideas were well thought and practical. The engagement of these young people, especially in a country where LGBTIQ+ rights are in a constant challenge, brings us hope that the school environment will be a safe and friendly place for everyone, including LGBTIQ+ people, in the near future.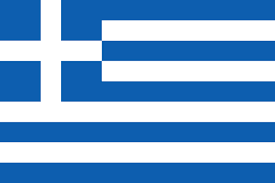 LGBTIQ+ visibility in VET: celebrating inclusion and diversity
The VET Student Art Contest took place in Greece from mid-May 2022 until mid-June. It was originally planned for 2 weeks with a deadline on 31st of May but it was extended upon the participants' request.

The contest proved to be a crowning success as it collected 40 submissions. The theme "LGBTIQ+ visibility in VET: celebrating inclusion and diversity" inspired different projects, offering the jury a plethora of highly artistic projects and making the final selection of the awarded 3 a difficult work.
Deciding upon 3 criteria (originality, creativity and relevance with the topic), the independent jury, composed of Ms Daiana Tsitso, Graphic Designer of EU Projects Department of AKMI, Ms Katerina Loukopoulou, Project Manager of EU-funded projects and Youth Worker and Mr George Garefalakis, Creative Director and Branding Consultant, awarded the following works of art:

1st prize: Markos Tsiklis, "Mirror"
2nd prize: Phaedra Economou, "Where I feel free"
3rd prize: Tears Kyritsis, "Tears"

The winner of the 1st award emphasized the challenges LGBTIQ+ people go through until they are able to come out and live as they wish. His photo project "represents the hard times all these people go through when they try to figure out themselves and be completely free in the outside world".
Image 1: Markos Tsiklis: Mirror of Change
Image 2: Phaedra Economou: Where I feel free
In the same line, Phaedra highlighted the serenity and happiness a person feels when they are able to express themselves and live up to their standards. As she herself described the message of the photo "My artwork was inspired by the movie "Blue is the warmest colour". One of my depicted friends recently had a very similar story to the movie so she, her best friend and I decided to make this photoshoot happen. That particular click aims to bring the calmness and the peace one feels in their significant other's hug. No one should be restrained from falling into the arms of someone they really want. Even if they're a he/she/they".
Image 3: Tears Kyritsis - Tears
Tears focused on the social role of clothing: profoundly denouncing its traditional function as a means of gender segregation and promoting, instead, diversity over one's free choice of how to express their gender. Their message, actually, addresses gender-neutral identities and expressions which have so far received less attention within society. On their own words, "Clothing in the LGBTQ+ community and the rest of the world has always been boy clothes and girl clothes and with this series of photography I'm trying to show that clothes don't have gender and they are for everyone".
Information about the project
The UNIQUE project aims to reverse the perceptions and attitudes toward LGBTIQ learners in VET Sector by introducing innovative, inclusive and gender-sensitive training materials for VET Teachers/Trainers and educating them in safeguarding and promoting a non-discriminatory classroom.
In the course of the project, the partnership will design a modern Training Curriculum for VET Teachers/Trainers after conducting a detailed mapping of the discriminatory norms and patterns met in VET Education and will appoint Ambassadors to diffuse the new training strategy through peer learning activities within their VET Providers at European level so as to maximise the impact. The new Curriculum will be piloted in the participating countries to test its efficacy and relevance to the actual needs.